For some people 67 Million Followers on Facebook and 23 Million on Twitter just doesn't do it enough it seems. They then go about building their own Social Network!
Cristiano Ronaldo dos Santos Aveiro, or as humans call him – Cristiano Ronaldo, the Portuguese and Real Madrid Footballer, has hit another goal. Not on the field this time, but rather on the internet – He has launched his very own Social Networking site.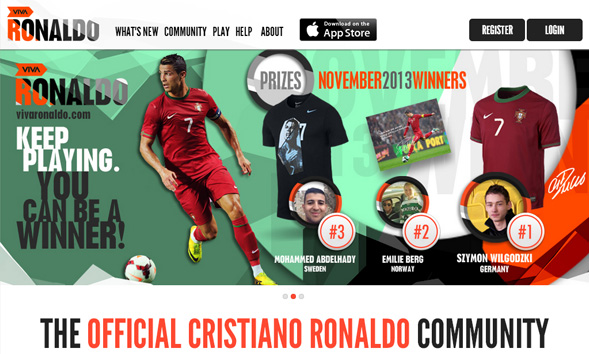 As W-T-F it sounds, its true. VivaRonaldo.com, is all about exclusive CR7 content, games, prizes and even a chance to meet "the man" himself. Not just launched as a campaign but rather as a Social Networking site in itself, this sure doesn't seem a short-term hype from his PR Team. The way it has been projected and how they plan to take it forward, sure does look like its a long term deal.

From Pre-match bets to Trivia to Live Fan Chatter when the game is on, the "Content Strategy" revolves all around Cristiano, building upon the fact that he has a sort of cult fan following. Fans can login via Facebook and stay up-to-date with the activities of their friends in this community.

The Official Online Platofrm is developed by Viva Superstars, a joint-venture co-founded by Cristiano Ronaldo, Polaris Sports and a Portuguese-Dutch startup named bViva. They have developed this as a proprietary real-time match following platform – Live Match 4G – that allows fans in different countries and television streams to play and interact during live events.