Letters have been replaced by eMails. Resumes are now sent in PDF rather than print and bills can be paid online rather than in hard cash.
The past few decades have seen a rather generous decrease in the usage of paper, and all for the right reasons, thanks to technology. One of the many things that it missed out on, was visiting cards.
Not anymore.
Evernote, the ever so useful mobile app, has now also transformed to a business card scanning app, in integration with LinkedIn. With LinkedIn's 300 Million users and Evernote's 75 Million, they have taken off the partnership to newer dimensions.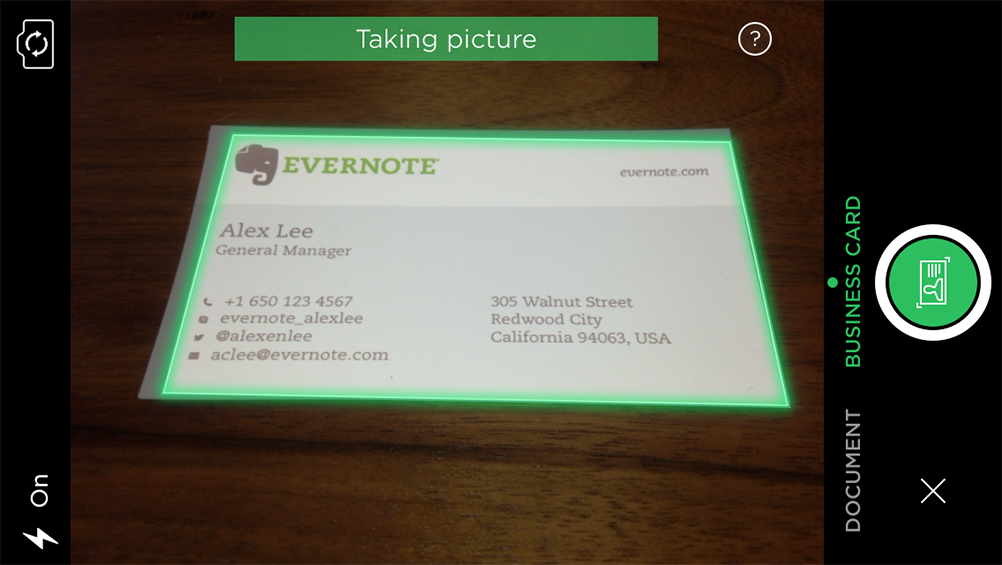 Evernote can now scan the visiting card and store all the contact information from it, with link to current LinkedIn profile, photo, plus section for adding notes and such. Though this doesn't altogether eliminate the usage of business cards, it sure does help in storage of the data better and searchable for future reference.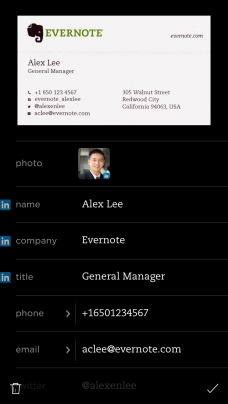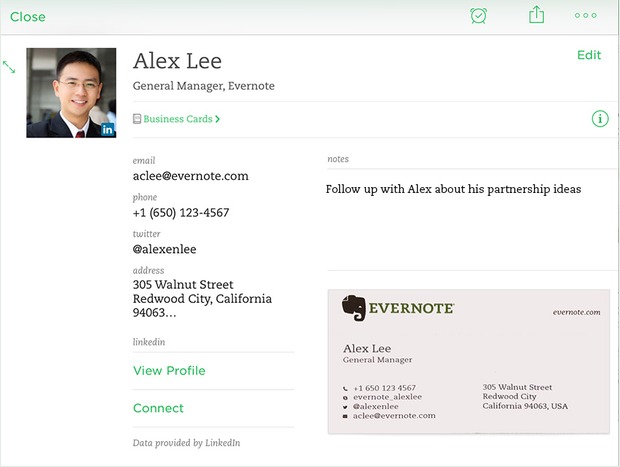 If you aren't already connected to the person on LinkedIn, it even shows up the option to send request to "add to network".
The feature has been released for iPhone and iPad users as of now, with the Android release coming soon. Usually a Premium Feature, it is presently available for free for a period of one year.
How it Works
Well, its pretty easy in fact. Just choose the camera once inside Evernote and go for Business Card option. Place the card on a contrasting surface (dark surface for light card and light surface for dark card; if glossy paper, take the pic at an angle to eliminate the chances of the flash reflecting). The app will automatically detect the edges of the card, take the pic and follow along its path of scanning and reading the details from it.
As Evernote says –
The scanning, optical recognition and LinkedIn searching happens automatically and mechanically; no human beings look at your business cards.
This is unlike the previous acquisition by LinkedIn of Cardmunch which used humans to read and transcribe the data from the Business Card onto the cloud. And as the partnership with Evernote is formed, CardMunch is going down the drain.
As I am an ardent user of Android with no Apple devices with me, haven't been able to use this feature yet. Eagerly waiting, as this is one feature am sure I'd be needing a lot.
Business Cards will be here to stay for quite sometime until a full-scale feasible alternative to it is found. Until then, I presume Evernote will do great with this initiative.
Image Courtesy : evernote.com, theverge.com