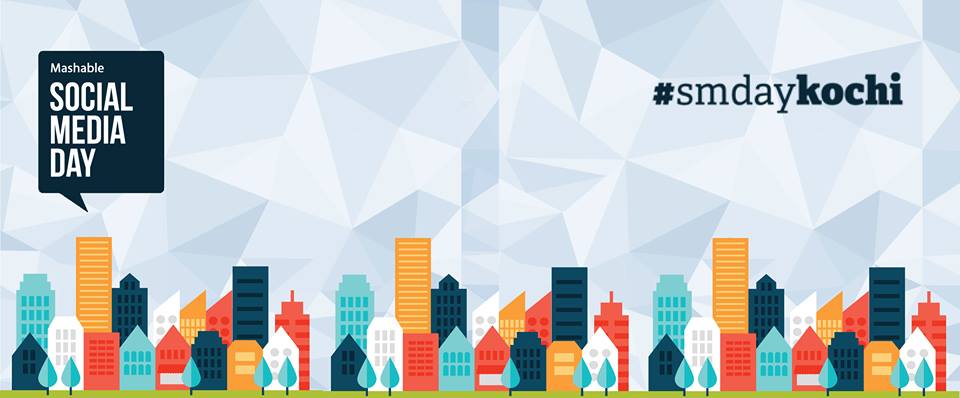 With Social Media Day being celebrated all over the world on 30 June, Kochi decided not to lag back on the celebrations. And it was held in grand style too!
WinningWayz, a Digital Marketing Startup took the initiative to conduct #SMDayKochi this year. I too was invited as an Agency Participant. The moment I reached there, loved the venue – Open Air Auditorium. Decided to live blog the event, especially since I heard lot many people who wanted to attend, couldn't.
Following is transcript of the Live Blogging for the event. Special thanks to my good mate Bibin for the above seen design and his Dongle for net connectivity 😀
06:45 PM – The Music Show begins and here I sign off. Gotta enjoy the music 🙂
06:11 PM – Amongst all this, the Twitter Contest is going strong. The 9th question just came up.
Q9: What was the very first video uploaded to YouTube? | #smdaykochi

— SM Day Kochi (@smdaykochi) June 30, 2014
05:57 PM – "Malayaleegraphy is formed out of Malayalam + Graphics + Calligraphy", says Orion while talking about the inception of the idea.
05:52 PM – Orion Champadiyil on stage sharing the success story of Malayaleegraphy.
05:25 PM – The Award Winners today –
05:14 PM – Mr Chandramouli, Chairman of Maitri Advertising addressing the crowd and welcoming the dignitaries on the dias – Mr Kochouseph Chittilapilly, Tinu Cherian, Sandeep Verma, Occha Team, Christin Emmanuel George among others.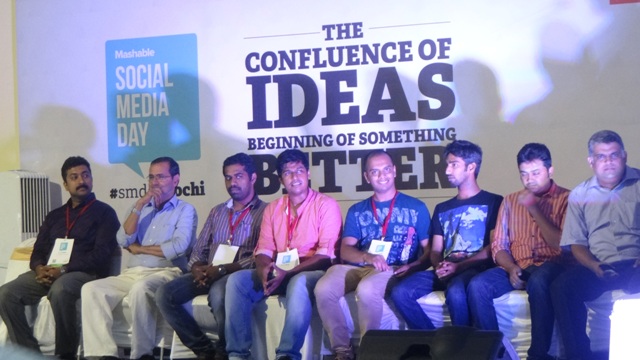 05:09 PM – Another 5 minute short break. Then return with the Award Ceremony.
05:04 PM – Jaseem plays the video to show how they have a fun work culture. This same video was later used in hiring new recruits.
04:56 PM – "If content is king, context is God", Jaseem quotes Gary Vaynerchuck.
04:52 PM – "We started receiving some of our first orders via Facebook, all thanks to the "power of the people". It was all on a Zero Marketing Budget".
04:47 PM – Mr Jaseem TS, Co-Founder, Wowmakers, on stage now to share his success story of how Social Media helped his firm make headlines in the Industry.
04:42 PM – Mr Kenny making the audience relate to the success stories of Blogging Methodology for Kerala Blog Express.
04:40 PM – V Guard Chairman, Mr Kochouseph Chittilapilly joins the audience here.
04:37 PM – All the behind the scene photos of Kerala Blog Express being shared by Kenny here. He sounds very enthusiastic while explaining the scenario of each image – from sleeping in a houseboat, to foreigners trying out lungi, to a Denmark lady seeing an elephant for the first time. Its all here!
04:25 PM – Kenny Jacob on stage, sharing his views about Kerala Blog Express.
04:10 PM – Break for a lunch of Tea and Good Day Biscuits
03:49 PM – "Any content on the net, makes most impact when it is adapted to suit local content", says Ms Ann, iterating the point by Mr Hrishikesh.
03:47 PM –  "Marunadanmalayali is third most read malayalam daily after Malayala Manorama and Mathrubhumi."
03:42 PM – Ms Ann Mary George, CEO, Marunaadan Malayali, on stage, continuing with the same topic as Hrishikesh.
03:31 PM – "Infographics, Maps, Cartoons – there's a huge plethora of content formats available, which the brands have to try and utilize. There's no use just sticking to one-two formats. Innovate."
03:21 PM – "Not just content, it is very important to decide upon the fonts when content is created for a local audience. Readability matters a lot." – Mr Hrishikesh
03:16 PM – "When a brand interacts, it has to keep in mind the local audience. Local dialects, puns etc play a major role in increasing the engagement with the audience"
03:10 PM – Mr Hrishikesh Bhaskaran, Swanthathra Malayalam Computing on stage, to share his views on "Content Creation : Kerala in focus"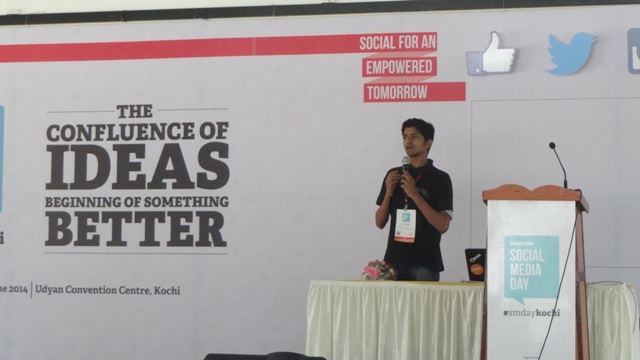 02:59 PM – Impact. Ideas. Instruction – the gist of Mr Vishnu Gopal's session here. He basically spoke about various examples of usage of SM Channels in our day to day life
02:49 PM – "Traditional Media is still very powerful, though decline is not inevitable"
02:41 PM – "New media should also imply new forms of content. Adapting older ones might not always work."
02:37 PM – "There's democratization of creating content. There's more co-creation now, lot more discussion."
02:35 PM – "Thanks to the internet, every one can be a content creator now. The flow of information has changed form one directional to multi directional simultaneously."
02:27 PM – "User behaviour on content consumption hasn't changed. Only the way we do things" – Mr Vishnu Gopal
02:21 PM – Mr Vishnu Gopal, CTO, MobMe on stage now, sharing his view about "Riding the Mobile Wave : Emerging patterns of Content Consumption"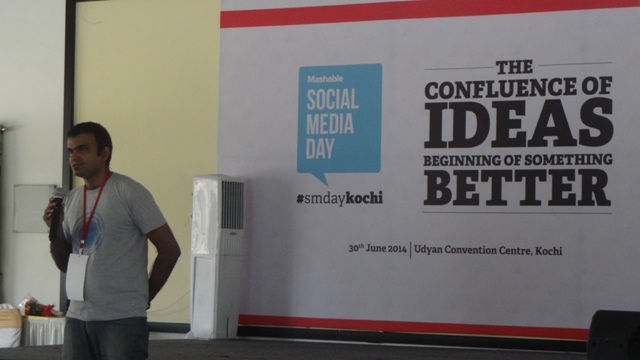 02:19 PM – Sessions about to start. Organizers sharing their experience about why they decided to hold the event here in Kochi.
02:04 PM – For the good people who'd like to know, the lunch menu was – Roti, Beef Fry, Chicken Curry, Rice and an assortment of salads topped up with Vanilla Ice Cream + Chocolate Syrup as dessert. God bless the cook 🙂
01:12 PM – Breaking for lunch
01:04 PM – Mr Savio ends his session with "Don't underestimate the power of a common man on Social Media"
12:57 PM – Now playing – Fiat Abarth 500 Zero Followers Campaign
12:48 PM – Lot many SM Campaign videos being shown here. Mr Savio reiterates his point about the importance of being able to emotionally connect with the customer.
12:40 PM – Mr Savio now shows us the importance of connecting to the people by showing us the video of the Aircel Boat Campaign.
12:31 PM – Mr Savio now shows us the "Lifebuoy Help a Child Reach 5" Campaign Video
12:25 PM – "The 30 sec TV moment has gone. Now thanks to DTH and YouTube having episodes screened."
12:23 PM – "Multiple screens of entertainment have penetrated into our life." 12:15 PM – Mr Dominic Savio shows us the following video of a Mobile App that was used in Tunisia to make people support their team. More details of the campaign can be read here.
12:05 PM – "The traditional media and digital media briefs haven't changed much. We have moved from a downloading culture to a uploading culture" – Mr Dominic Savio
12:02 PM – Mr Dominic Savio, VP, DDB Mudra Group on stage now to talk about "Blurring Lines Between Traditional and New Media"
11:59 AM – Now Playing on stage – Social Media Day video from Mashable.
11:57 AM – "Social Media will definitely overtake Traditional Media in terms of reach and impact. Wish all success to this event." – Aashiq Abu
11:52 AM – Aashiq Abu "Digitally Inaugurates" #SMDayKochi
I, Aashiq Abu, hereby digitally inaugurate #smdaykochi. Its good to be social.

— Aashiq Abu (@talkaashiq) June 30, 2014
11:49 AM – Aashiq Abu on stage. Starting of in his trademark and classic Malayalam Style of rendering.
11:46 AM – Mr Dominic Savio, VP and Head of DD Mudra Group on stage.
11:45 AM – Aashiq Abu on stage.
11:43 AM – "Let's stand together and make something wonderful" – Manoj Thomas
11:42 AM –  Manoj Thomas (COO, Winning Wayz) on stage for the Welcome Address.
11:40 AM – Ready to take off. The MC's on stage and the audience on Twitter.
11:30 AM – Audience taking up the seats. The ball's about to roll!
11:28 AM – Aashiq Abu joins us as the Chief Guest.
11:15 AM – Media setting up their post.Cameras getting ready. Twitterati tweeting along!
10:45 AM – Registrations start. People are pouring in!