One more reason to hate Facebook.
After a lawsuit last year claiming that the Multi-Billion Dollar valued Social Network violated the law by using people's names and images alongside advertisements without compensating them, Facebook agreed to include options for users to opt out of these. Now where can these options be found, I have absolutely no idea. Ask Zucky about that.
There was a hue and cry by the public because the users actions were connected to liking a brand whereas when their names were being associated with Ads, the image and text of the Ads were completely in control of the brand. For example – "Vijay likes X brand" is totally fine. But me being shown beside an Ad that says "Buy X brand's product" is totally offensive for me.
See the following screenshot. The write-up at the bottom doesn't make any sense.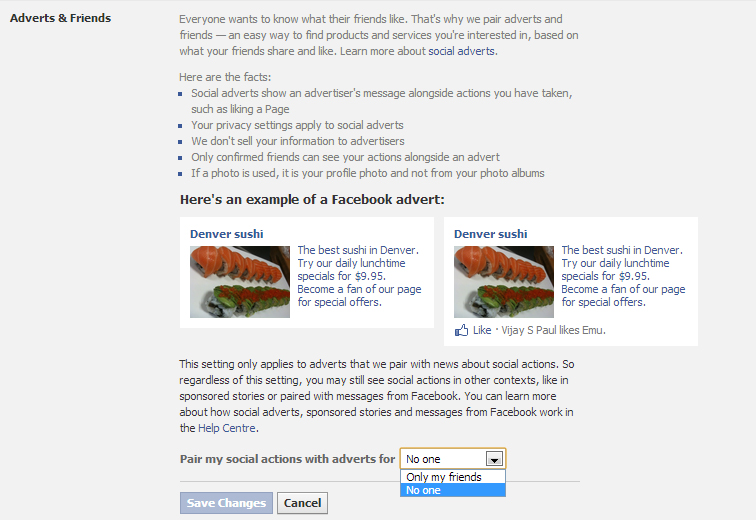 While am "opting out  to ads that FB pairs with news about social actions, FB may still use these social actions in other contexts like Sponsored Stories….." Uh…. Not speaking on the basis of the 96 marks I scored in my English Exam in 8th Standard, but this sounds like Bane talking to me – I can't understand a word, but still know its something bad.
But don't worry, this ain't the bad news. The bad news is just coming up. Based on the lawsuit mentioned above, Facebook is now bringing about changes in the statement of rights and responsibilities notes that users would be granting permission to Facebook to use information in Ads. (Read the full red-line document here)
To put it short and specific, the terms are going from this
You can use your privacy settings to limit how your name and profile picture may be associated with commercial, sponsored, or related content (such as a brand you like) served or enhanced by us.
to this
You give us permission to use your name, and profile picture, content, and information in connection with commercial, sponsored, or related that content (such as a brand you like) served or enhanced by us, subject to the limits you place. This means, for example, that you permit a business or other entity to pay us to display your name and/or profile picture with your content or information, without any compensation to you. If you have selected a specific audience for your content or information, we will respect your choice when we use it.
Oh wait, wait, wait. Before you start cursing and reaching out for your rifle, have the patience to read through the next para too. It explains the proposed changes in the data usage policy of Facebook. In simpler terms, how they can get to know "everything" about you.
We receive data from or about the computer, mobile phone, or other devices you use to install Facebook apps or to access Facebook, including when multiple users log in from the same device. This may include network and communication information, such as your IP address or mobile phone number, and other information about things like your internet service, operating system, location, the type (including identifiers) of the device or browser you use, or the pages you visit. For example, we may get your GPS or other location information so we can tell you if any of your friends are nearby, or we could request device information to improve how our apps work on your device.
But don't worry, all's not lost. These changes will be brought in only on September 5th, 2013. You can submit your feedback to Facebook on these changes here.
I leave it to your judgement on whether you actually think Facebook  would heed the feedback from the public. Just going through the already submitted responses would give you enough idea already.
Finish off with the following toon I found to be apt for the situation.