The morning started off with the front page of the newspaper shouting out loud that it was a hartal (some politician had been murdered brutally). Bad news to begin the day with. So I moved on to the sports page when my mobile scheduler beeped – 1330 hrs: Attend Workshop on Intellectual Property Strategies at Startup Village!
Darn! I had almost forgotten.
So, after a client meeting scheduled in the morning that dragged on till noon, I, along with my friend Manu, reached the Kinfra campus of Startup Village at about 1430 hrs. An hour late! Luckily, we were let in to attend the session. (Thanks guys!).
The first session was handled by Mr Dilip Kumar, Founder at Inolyst. He spoke about the differences between patent, trademark and copyright and the pros and cons of each. Shortly thereafter, the audience gathered was honored by the arrival of Mr P. H Kurian, IAS, Principal Secretary IT, the Chief Guest. He was welcomed on board by Sijo Kuruvilla George, CEO, Startup Village.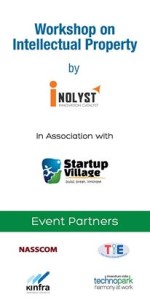 Kurian Sir first asked each and everyone of us present there to introduce ourselves and then smoothly moved on with the session. He spoke from his in-depth knowledge about the field and from his first hand experience as the Controller General of Patents, Trademarks and Designs. He explained to us using various examples about what are the implications that could be faced if patents are not applied for at the right time and the legalities involved.
After Kurian Sir's session and before moving on to Dilip Sir's session, we had a wonderful Tea Break. Wonderful, because the samosas felt like heaven for both of us who hadn't had anything since morning 😀
Well. As we moved on to the next session, each of us started understanding in more detail about why an execution strategy is needed for creating valuable intellectual property. Dilip Sir explained to us further about the structured model involved in the lengthy process of patent registration and "WHY" exactly importance should be given to patent registration – not just for protection but also as a means of getting investors and revenue generation based business model.
This last session, which also happened to be the lengthiest session of the day, also covered the differences in patent filing aspects in India and abroad and also revealed some important facts for technology entrepreneurs like how in India we cannot file for a patent for a software per se.
As the day's session ended and I left the building, one couldn't help but feel awed at the awesomeness of the place. A place, that would house some of the budding minds and aspiring entrepreneurs of the present generation. Something which maybe, only another start-up entrepreneur would be able to appreciate.