With the advent of Social Media, the public has moved from being menial content consumers to holding a strong role as content creators. Bloggers are making an impact in the world, Tweeps decide the very fate of a marketing campaign and Facebook "Superstars" play a major role in spreading news like wildfire. And not to mention YouTube Directors who rival their Bollywood counterparts.
The concept of Citizen Journalism has existed for quite sometime. But, with Social Media gaining momentum and technology easing out newer platforms to help content creators, Citizen Journalism too, has see tremendous growth.
It's not just the specific individuals, who take it upon them to don the role of a "Citizen Journalist", who are making waves on the web. Common day bloggers, through their share of voice, are making themselves heard – be it on niche topics or on day-to-day matters of concern. And in due course, what has to be accepted is that, power is returning to the Common Man.
In my latest workshop addressing Journalists and a public audience at Swadeshabhimani Media Centre, Vakkom Moulavi Foundation in Trivandrum, I was asked to elaborate my thoughts on Citizen Journalism.
While I focused on the nuances of how Social Media is empowering the common man, couple of case studies on showcasing the power of Social Media when in the hands of the public and thoughts to keep in mind when starting to blog, my counterpart Bibin P Thomas enumerated on the technical aspects of how to start with a WordPress Blog and the visual aesthetics to be kept in mind.
 The main pointers/takeaways from the session were as follows –
The Power of a Common Man has increased thanks to Social Media
Elaborated on examples of Mashable, Huffington Post, LightHouse Insights and Trak.in – Blogs started by common people which have now grown to mighty levels
Journalists have started working with Citizen Journalists to wider their nodes of News Sources
Advantages of Citizen Journalism –

Leads the professional journalist to the exact source of news
Spot Footage
Live News
Low Cost
Wider reach for news access

Disadvantages of Citizen Journalism –

Lack of Professional Expertise
Unreliable
Not bound by Professional Ethics

Case Studies where Social Media played a positive role –

Arab Spring of 2011
2004 Tsunami – where individual blogs kept people up to date with survivor list, list of people missing, helpline numbers etc.
2013 Turkey : Gezi Park Protest

Case Studies where Social Media played a negative role –

RIP Morgan Freeman Facebook Page – which propagated false news of his death
RIP Steve Jobs – A news in CNN iReport which drastically dropped Apple's stock price
#OccupyCalicutUniversity – A personal experience. An example of how even professional journalists fall into the trap of "News on Social Media"  without verifying sources. More can be read here.

How to stop hoaxes on Social Media –

Be a part of the solution
Scrutinize the Source
Utilize your community
Share your findings with others

A few pointers to keep in mind while writing on the web, especially on your Blog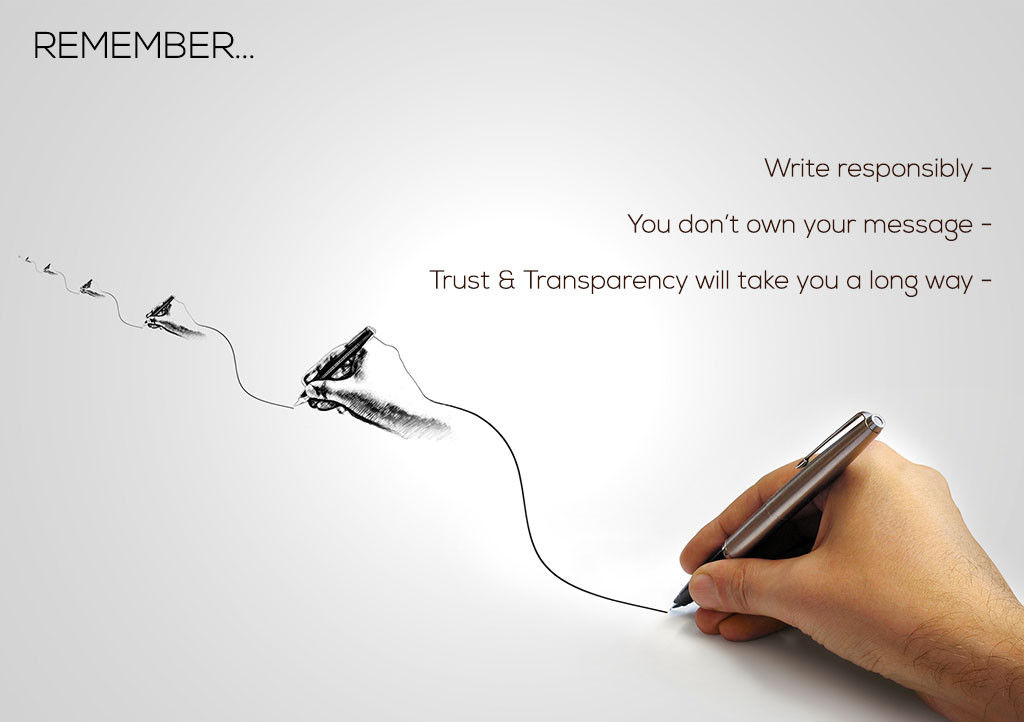 The whole intent of the session was to get across the message that – "On the Internet, Everyone is Powerful". It's one's own decision on whether to use the power for the good, or negatively.
As was said in the Spiderman Movie –
With Great Power, Comes Great Responsibility!
And it's upto us, the writers, the bloggers, the citizen journalists – to make sure we use it for the best.