Well, the above said points did happen in that order. And that too at the exact moment when I kept fantasizing about my first trip on a plane!
All my problems started from political morons calling All Kerala Hartal due to someone not doing something…. and some such paraphenilia. Hence myself, Ajin and Bibin had to reach the Cochin Airport  in advance, in order to avoid the madness of the hartal'ists. 12 hours in advance that is!
Suffering through Twilight inspired mosquitoes, untimely rains, chilling cold steel chairs and the sirens of some minister's car, we survived the night. Only to wake up to have a Rs 35 ka coffee which tasted as bland as orange-less orange juice and a Masala Dosa with lesser masala than a Diet Coke. Well, all three of us work in startups, and hence difficulty is our middle name. So it wasn't exactly like it was a stress situation, but it sure wasn't a million dollar deal either!
Security check, baggage check, claiming the boarding pass and everything else happened very quickly. Nothing eventful happened in the whole procedure, except when I was going through the security check and my phone rang – Bhaag bhaag DK Bose, DK Bose….
I didn't dare put my phone on loud profile until 6 hours later.
We boarded the flight, fastened our seatbelts and watched the flight roar into the clouds. I for one, loved the take-off! My first flight ever and the power that surged through the whole aircraft while take-off just gave me a miniscule idea about the power it stored within. Speechless!
So there we were at 39000ft with nothing but clouds around us. I had already checked-in to the flight on foursquare the moment I boarded it. My next urge was to register a check-in at 39000ft, the highest our plane would go. Even networks promising 99% coverage do not have range above the clouds, and its another thing we are asked not to switch on our mobiles. So that was that.
As we were landing down at Hyderabad, I got 2 rods of signal on my network and my net connection was restored. 39000 or not, I just checked into the flight again and myself declared I was at 39000ft. Well, you can't call it lying exactly. Just delayed truth 😀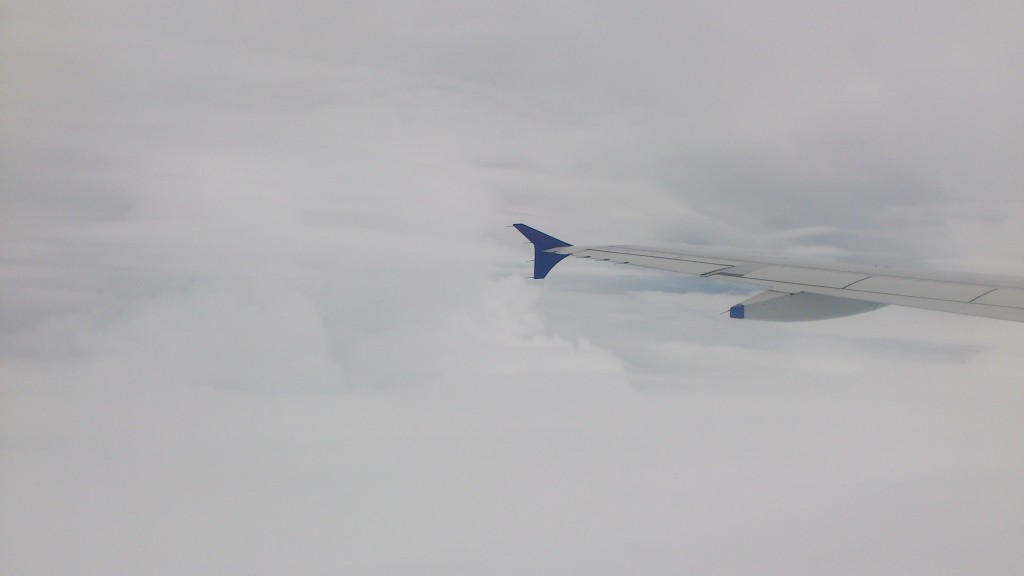 And just so you know, all these hulabaloo series of comedy of errors is in fact all cos of a simple decision of planning to go for #R10SGW 😛
Coming to the climax, though this whole blog post seems pointless and feels like it is written because I had this sudden urge to write and wanted to do so before I fell asleep, this is just half of the things that happened today. Not to mention the secret smile I thought the air hostess gave me, the asking of "Free Coke hain kya?", the fight for lower fare with first the taxi driver and then auto driver, brunch from McD with friend's mom's credit card…… amongst others.
There were so many things happening today, I just didn't want my blog to feel left out. And with the IEEE R10 SGW Congress starting tomorrow, I sure do hope the conference is worth all the trouble we made.
Ciao!!